POS Management/Inventory Analytics
It's All About Your Bottom Line
Sales: 800-875-6592 x 310
If you are looking for point of sale software and ask questions about anything other than improving your profitability, you're wasting time. It's totally about improving your bottom line. ProphetLine understands this and automatically analyzes your inventory in ways you can understand. You now have a path to follow for that financial improvement.
Retailers who see quick and concise inventory reporting show higher sales increases than their counterparts that can only retrieve hard to understand lists. No one knows better than us if our point of sale software, with its unique reporting tools, is a good fit for your retail business.
Call us for a low-pressure and objective assessment of your retail technology needs. With just a short phone call (toll-free, of course!), we will work with you to find out your needs, and see if our point of sale software will work for your retail business. If our pos software will not work for your retail business, we will tell you. And don't worry, you won't find high-pressure sales tactics used here!
We Know Specialty Retail Businesses!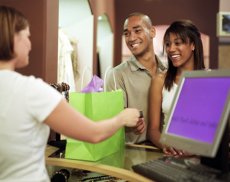 ProphetLine specializes in specialty retail point of sale software.  We know retail AND pos software technology, and our award-winning products process over a million pos transactions a day all over the world in furniture, clothing, sports, electronics, photo, cellular, and other types of retail.  Chances are if you are a retailer, our pos software will work with your business.  And, not only will it work for your business, our point of sale software will make it more efficient and profitable.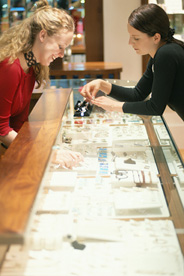 Features?  We've Got Features!
FAST Point of Sale
Gift Certificate Production, Tracking and Redemption
Credit, Debit & Gift Card POS Software Included
Serial Number and Warranty Tracking
Consignment & Trade-Ins
Customizable "On-Screen" Shortcuts
Sales Orders with Deposits
Purchasing, Receiving by Exception
Customizable Receipt Graphics
Email and FAX Service from PC
Seamless Web Shopping Cart & Gift Registry
Electronic Signature Capture
Inventory Management
Touch Screen Support
Customer Marketing
Time Clock and Payroll Support
Integrated Accounting or Links to other Packages
Technology?  We've Got Technology!
Web-based or Installed in Your Retail Store
Your Web Store and Physical Retail Store will work together without using a band-aided approach with other pos software packages!
Highly adaptable to other Systems, such as Oracle Financials, CRM packages, and other systems.
Multiple Stores and Regions can be 100% real-time online, near-real-time, or other.
Highly redundant, scaleable, and reliable.
Easy data import, export, and integration with other software if needed.
Find Out if ProphetLine is Right for Your Retail Business!
Tired of talking with pos software companies that promise their point of sale software is "just perfect" for your retail business?  We know every retailer is different – that is why we offer different pos software and point of sale systems for different needs.  Whether your retail business is one store with one terminal, dozens of retail stores with ecommerce and a web shopping cart, or you have special technology or integration needs, we probably have a pos system for you.
Is ProphetLine POS Software a Good Value?  Yes!
Does your business have a lot of stores or is it growing fast?  We even have a pricing plan that provides your company with unlimited licenses for One Low Fixed Price!  Our pos software is affordable, and it comes standard with many features that others nickel and dime you for, just to entice you with a low initial price.  (Can you believe that something as simple as inventory control and reordering capability is extra with many other companies!?!?)